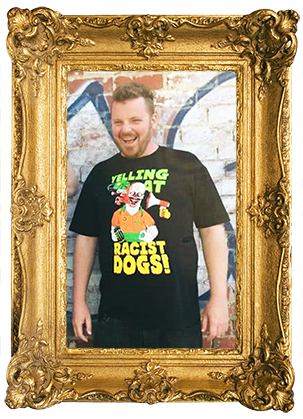 Tom Tanuki is a multi-modal and multi-disciplinary artist mining deep liminal thresholds between socio-politick, creativity, activism and cringe third-person art-wank bios.
Nah get fucked, Tom Tanuki is a writer, satirist, foghorn and pest.  His work in political comedy and commentary happens in online, stage and activist spaces through projects like the fun and shouty anti-racist group YARD and satirical nationalist group the Million Flag Patriots.  His premiere live stage show with Sean Bedlam, 'YARD: Just As Bad', performed to a sold-out run during the 2019 Melbourne Fringe festival.
A regular columnist, Tom has opinion pieces published in Independent Australia and New Matilda.  His work has featured on ABC's Media Watch (complimentary) and on the The Bolt Report, The Australian and in the mouths of every local far-right grifter of note (less complimenary).  See Tom's favourite projects here.
Tom is a shameful white traitor of diasporic Armenian and Irish descent who grew up on unceded Wurundjeri land and currently lives in unceded Naarm.  He is but one cog in a healthy, functioning anti-fascist machine that does a few things you know about and a hell of a lot more you don't.  Tanuki are shapeshifting youkai with cool parachutes.
Support Tom Tanuki on Patreon!
Visit Tom Tanuki on:
Facebook
Twitter
Instagram
YouTube